Managing IT infrastructure, eliminating faults and supporting users is a big challenge, especially for organizations with many branches. The services provided by external specialists can be a great solution. Many years of experience, a network of service points located throughout Poland, logistics and warehousing facilities and our proprietary ITSM system allow us to provide effective assistance as part of IT outsourcing
Services tailored to your needs
We perfectly understand that each company has its own individual needs. IT support must therefore be flexible. To meet such expectations, we implement IT outsourcing within three teams – HelpDesk, ServiceDesk and the Field Support Team. We have many years of experience in carrying out rollouts, i.e. mass, simultaneous replacement of IT hardware and software.
The main goal of the HelpDesk team's services is end-user support. Our team is the first point of contact for the client's problem-related issues. Depending on the needs, the help may be related to the hardware, system or application layer.
We solve most of the received requests remotely within one day of reporting. Most often, the advice given by an expert or the use of a remote desktop is sufficient. If the problem cannot be solved remotely and requires action at the customer's branch, our Field Support employees are sent to the site.

IT services for companies – proprietary solutions from Talex

Thanks to our ITSM system – TalDesk – we can quickly solve problems reported to us. It enables an efficient exchange of the necessary information and data. An extensive classification of notifications makes assigning a ticket to a specific specialist easier. In addition, TalDesk allows you to place orders, check inventory and track the execution of orders. Employees from the Helpdesk team operate the ticket system around the clock, which translates into efficient IT outsourcing.
When implementing ServiceDesk services at Talex SA, we focus on comprehensive solutions related to supporting central systems and administration of IT infrastructure at all technological levels. The service includes the hardware layer, operating systems, databases and virtualization. Through ServiceDesk activities, we enable the client to maintain the optimal system effectiveness, operational efficiency, and the highest level of protection for the managed infrastructure.

ITIL methodology

We operate based on the global standards of ITIL (Information Technology Infrastructure Library). It is a methodology consisting of a series ofl IT service management models, improving customer service and solving customer problems. Established in the 1980s, it is constantly being developed and used worldwide.
At ServiceDesk, we offer support at every stage of cooperation, including when building a new environment, migrating systems to the cloud, work related to the client's central systems and during remote software updates.
Talex SA service offers full support in the management of IT equipment, from the purchase and connection of equipment through its configuration and maintenance up to its disposal. We have prepared various cooperation models to provide our clients with services tailored to their needs. We provide IT services to companies in the form of:
- IMACD - installations, reconfiguration, relocations, deinstallations;
- Break & Fix - solving current problems;
- Device as a Service - sharing devices as part of a monthly fee;
- Rollout - mass replacement of hardware and software.

The outsourcing of maintenance services to a specialized company is a beneficial solution. Due to it, enterprises do not have to deal with problems with IT infrastructure, its maintenance or replacement on their own. All work is carried out by experienced professionals and based on global ITIL standards. Using the IT outsourcing service also allows you to optimize costs and keep them stable.

IT outsourcing for companies all over the country

Talex offers a network of service points that provide IT services to companies located in various parts of Poland. Their strategic positioning guarantees that we can quickly reach any place in the country.
The service consists of the mass replacement of IT hardware or systems. It enables an organization to remove outdated infrastructure and gain a new, standardized environment. Rollout is a complex undertaking that requires efficient and coordinated actions based on a predetermined schedule. Only a properly prepared process, carried out by experienced specialists, will not cause long downtimes in the company's operations.

Changes for your company

Rollouts have been an essential element of IT outsourcing services for years. We have conducted them for companies all over Poland, including the representatives of the banking sector. Thanks to a refined work methodology, our own logistics and warehousing centres, and our partnership statuse with the best suppliers, we are able to purchase, deliver and install equipment in the company's branches without exceeding the agreed deadlines.

Support for customers all over the country

We have rollout factories in Poznan, Wroclaw and Warsaw, as well as a network of service points all over Poland. Depending on the client's preferences, our corporate IT services can be provided during standard business hours, in the evenings and at night, on weekends or holidays..
Effective systems supporting customer service
TalDesk
The ITSM system – TalDesk – supports handling requests, problems and changes at all stages of service provision. It allows easy access to information and fast exchange of data in real-time.
Taldesk can be integrated with the client's ITSM systems. Therefore, the problem reporting procedure remains unchanged from the end-user's perspective. The customer's data is stored and replicated in the Talex Data Center, thanks to which the highest level of security is guaranteed. This is our proprietary system, designed for efficient customer service.

System PBX
The system is a comprehensive work tool for the Customer Service Department. It is an alternative to the Call Manager by large manufacturers. It consists of the following:
- Virtual PBX (Private Branch Exchange), i.e. a virtual telephone exchange;
- Call Center;
- Conference module;
- IVR (Interactive Voice Response) and call recording.
Its reliability is based on the architecture built on a cluster of servers located in the Talex Data Center.
"The use of numerous IT systems by companies is no longer a norm but a necessity. On-premise, cloud and hybrid solutions are ultimately based on computer networks. Advanced administration of systems and end-user support services on a mass-scale is a domain where Talex has extensive experience and competencies."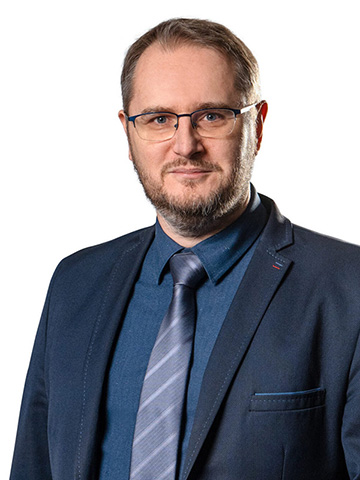 Talex in numbers
Data Center
certified to
EN 50600
years
on Warsaw Stock Exchange
Infrastructure
Our team of experts created over the years, perfectly organized internal processes supported by our proprietary software, and extensive infrastructure allows us to provide IT support to the most demanding clients.
We have warehousing and logistics facilities and employees in all parts of Poland, which allows us to provide comprehensive IT outsourcing services, regardless of the customer's location. To guarantee the highest level of IT outsourcing services to our clients we have implemented the Quality Management System of IT Services.

Network of branches located all over Poland
Our company's headquarters are located in Poznan. We also have 17 regional branches with warehouses throughout Poland. They are strategically placed and allow us to reach the client's premises efficiently.

Branches are located in Bialystok, Bielsko-Biala, Bydgoszcz, Gdynia, Jelenia Gora, Katowice, Koszalin, Krakow, Lublin, Lodz, Nysa, Olsztyn, Rzeszow, Szczecin, Warsaw, Wroclaw and Zary.

Perfectly organized logistics and maintenance facilities and nearly 300 employees allow us to provide comprehensive IT outsourcing services and deliver equipment to customers as part of the rollout service.

Ready logistics base
Modern fleet
Our fleet consists of modern delivery vans. We employ drivers with many years of experience in securing and transporting computer equipment and data carriers. Therefore, we can guarantee fast and safe delivery throughout the country. We are committed to protecting the environment, which is why we use electric cars and eco-driving programs in the largest cities.
Logistic Centers
The network of over a dozen branches across the country represents a total of over 3,000 m² of space reserved for our business partners. Effective execution of orders is supported by a consistent methodology of operation and proprietary applications. A team of experienced IT engineers responsible for the largest rollouts in the country guarantees the success of even the most demanding infrastructure projects.
"Two Data Centers, a network of warehouses located all over the country, our own fleet of vehicles and a management system developed over the years allow us to carry out even the most complex projects throughout Poland."
Talex SA - we support your business
Talex provides services across the entire spectrum of IT activities. Problems that paralyze a company's business operations often result from a combination of several different issues requiring expert knowledge in more than one field.

With extensive knowledge in hardware, security, integration and software, we can provide comprehensive IT support to our clients.
We are
a member of
Company listed
on WSE
We are
a member of